Donate to 57357 by sending a tiny message from your mobile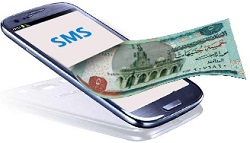 Write as short as one letter in a SMS and send it to the number 57357, in doing so you donate L.E.5 to the Hospital and you contribute to the cure of a child with cancer.
Do not underestimate the worth of your contribution; your SMS will help us achieve all of the following and so much more:
– Cover the cost of the lengthy treatment of our patients.
– Cover the cost of the latest technology tools and equipment which enable us to provide optimum care and best outcome for our patients.
– Contribute to the realization of our new 300 bed in-patient tower which would more than double our present capacity so that we would not turn away a child seeking our help.
– Support our research department which seeks to maximize our patients' outcomes and improve treatment protocols so as to reach over-all survival rates of the developed world and beyond.
All of the above are some of the areas to which your SMS contribution would make a difference. But most importantly, remember that your donation shares in bringing back a smile on the face of a child with cancer, restoring his hope in a better future.
DO NOT HESITATE, SEND THE MESSAGE NOW, YOUR SMS WILL MAKE A DIFFERENCE