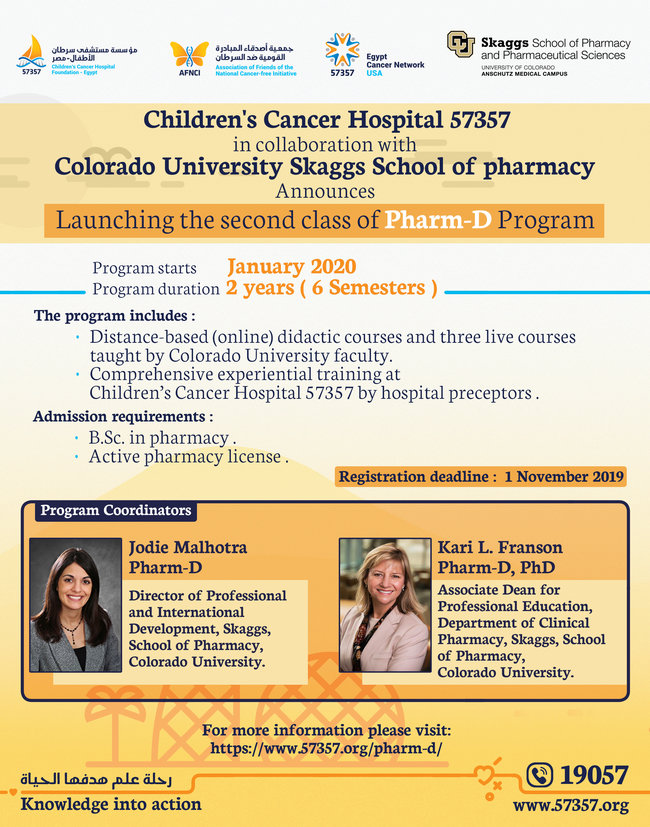 Pharm D program Mission
In collaboration with University of Colorado we will deliver a pharm D program aiming to prepare graduates to be competent, ethical, contemporary and compassionate practicing pharmacists. They will be committed to active involvement in the advancement of the pharmacy profession and dedicated to fulfilling the public trust by assuming responsibility for optimizing patient care through provision of appropriate drug therapy and by assuring the safe, effective and efficient use of drug products and drug delivery systems.
Program description
Successful students will complete 67.5 credit hours of didactic and experiential coursework and graduate with a PharmD degree offered by 57357 in collaboration with University of Colorado Skaggs School of Pharmacy and Pharmaceutical Sciences
The program is designed to improve clinical care and medication therapy management skills
This is a postgraduate 2-year program consisting of:
1. One year and a half online didactic course with live didactic activities in 57357
2. experiential training (including IPPE and APPE) throughout the two years under supervision of 57357 preceptors
We will start the program in January 2020 with 10 candidates
The applicant will need to sit for a two-part exam as a prerequisite
The Program includes distance-based didactic courses taught by Colorado University faculty members and live experiential (Introductory Pharmacy Practice Experience IPPE and Advanced Pharmacy Practice Experience APPE) training which requires students to come to 57357 during the curriculum. During these visits, students complete program requirements through live experiential activities. The first live session includes orientation and a five- day on-site training which provides in-person interaction, individualized education and support, and introductory pharmacy practice experiences (IPPEs) and OSCE evaluations. After completing the didactic courses and IPPEs, students fulfill advanced pharmacy practice experience (APPE) rotations in 57357.
Nermine Elmoshneb – Director of Administration – Health Sciences Academy – [email protected]
Dr. Sherif Kamal RPh, Msc,DHCM, Pharmacy Programs Director - Health sciences Academy - [email protected]
57 HSA PharmD Program
APPLICATION FOR ADMISSION
The application fee is $100.00.
57357 PharmD Program is avaible to pharmacists who possess an undergraduate degree in pharmacy from any national or international approved or accredited college or university program. Applicants must be licensed pharmacists or license eligible. Successful applicants must also demonstrate a desire and commitment to expand patient-centered pharmacy care. There is no minimum grade point average (GPA) to apply to the 57357 PharmD Program. Program policies require background checks (fingerprint) for all students upon admission.
Students begin the 57357 PharmD Program in the summer semester. Applications for admission to the program must be received prior to the deadline of August 31st, 2019. If the deadline falls on a weekend or holiday, then the deadline will be the next business day. Please contact the Director of Student Affairs if there are concerns about meeting the application deadline. Applications received after Aug. 31st deadline will be considered for the following admissions cycle.
All students in the 57357 PharmD Program are subject to all program policies. A full list of these policies is found in the Pharm D manual.
To apply to the 57357 PharmD Program, applicants must complete ALL of the application requirements listed below by the August 31st deadline. Only completed applications will be considered for admission.
The application form is located on the website and can also be obtained by contacting the Director of Student Services
A personal statement describing the applicant's reasons for seeking a PharmD degree and applying to the 57 HSA PharmD Program, specifically how they plan to use the degree to advance pharmacy practice. Details regarding specific questions to address and formatting instructions can be found in the professional goals section of the application and on the website.
A current, updated CV / resume describing the applicant's professional pharmacy experience and accomplishments.
Official transcripts from a national or international approved or accredited college or university pharmacy program from which the applicant graduated and from any degree program(s) in which the applicant has been enrolled in since obtaining the pharmacy degree.
Applicants must be licensed pharmacists or license eligible.
The applicant must identify three individuals to provide a recommendation (one from current employer/supervisor). Letters of recommendation must be completed using the standard recommendation form. Recommendation forms should be sent directly to the Director of Student Services, forms submitted by the applicant will not be accepted. References should be people who know the applicant's professional, academic, and/or personal achievements or qualities well. As such, references must be from professional contacts, such as employers, supervisors, former faculty, preceptors or professional colleagues. References from family members, friends or politicians will not be accepted.
A nonrefundable application fee of $100.00 (USD) is required as part of the admissions process.
Applicants are required to pass a pharmacy foundations competency exam comprised of multiple topics, provided as two separate exams. Applicants will need to pass each exam. The exams will assure baseline pharmacy knowledge covered in the applicant's undergraduate in pharmacy coursework. Individual topics to be tested will include: biochemistry, cell biology, mechanisms of disease, pharmaceutics, medicinal chemistry, microbiology, pharmacology/toxicology, pharmacokinetics, drug design and drug action, immunology, and basic anatomy. The examinations will take place as a requirement prior to admission. Results of the competency exams will be valid for 2 years. Applicants will be limited to sitting for the exams twice per admission cycle. After sitting for the competency exams four times, restrictions may be placed on any subsequent registration. A study guide and practice exam are available to promote successful passing of the exam. Details regarding how to sign up for the competency exam can be found on the 57 HSA PharmD Program website page.
The 57 HSA PharmD Program requires all applicants be proficient in the English language, as detailed in the program's technical standards. Applicants must undergo an evaluation of English proficiency by taking the internet-based Test of English as a Foreign Language (TOEFL) exam or the International English Language Testing System (IELTS). Scores from the TOEFL or IELTS tests will serve as one piece of the admissions process.

TOEFL Exam Score Requirements :Applicants must achieve a minimum composite score of 89 within the past two years.
IELTS Score requirements : Applicants must achieve a minimum overall band score of 7.0 within the past two years.

After April 1, the Admissions Committee will review completed admissions packet. Those applicants who will move forward in the admissions process will be contacted to complete the items as listed below.
The interview process is designed to assess the applicant's knowledge of the profession, communication and ability to perform in a positive, professional manner when working with others. To be considered for admission, applicants must participate in a live admissions interview (video teleconferenced interview available for international applicants), which will consist of a verbal evaluation. The interview will occur after a review of the applicant's materials completed as listed in the English Proficiency sections.

The interview panel will include a minimum of five interviewers from the following: HSA Operational Director, HSA Medical Director, HSA Pharmacy Program Director, Director of Student Services, director of pharmacy, clinical faculty member (preceptor), CU faculty member.
(for international applicants) – the student must contact the Egyptian embassy in their country to obtain the appropriate visa.
experiential Training
The experiential training curriculum begins within the didactic curriculum, where we provide introductory pharmacy practice experiences (IPPE). Students start with a 1-week session in 57357 at the beginning of the program.
Upon completion of the IPPE and online didactic curriculum, the experiential program continues with advanced pharmacy practice experiences (APPEs), in a variety of practice areas.
Elective APPE rotations may be selected from a variety of 57357 subspecialties, such as neurology, nutrition, infectious diseases, critical care, psychiatry and/ or other elective rotation choices such as pharmaceutical care projects, education, administration, industry and clinical research. All APPE rotations are completed on a full-time basis.
Didactic curriculum
This didactic curriculum, focuses on a combination of professional skills courses (e.g. Evidence-based Medicine, Interprofessional Education, Clinical Capstone, and others) and pharmacotherapy courses, which are the core of the didactic curriculum.  Pharmacotherapy courses address the pathophysiology, advanced pharmacotherapeutics, pharmacokinetics and professional skills development specific to the disease state.
Students fulfill the credit hours through live and online didactic courses. Online didactic courses are delivered in a format which requires one to two hours of "class time" per credit hours each week, plus one to two hours to complete assignments. Additional study time is student specific.